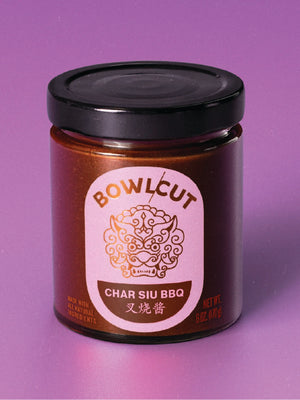 CHAR SIU BBQ by Bowlcut
Classic Chinese BBQ flavor without the smoke, fire, or guesstimate cook times. We're not saying you're lazy, only that you want maximum results with minimal effort, right? Char Siu understands. Mouthwatering flavor, no cooking required.
Pair with tofu, meats, veggies, burgers
No cooking required
Hoisin sauce (sugar, water, miso [water, soybeans, rice, salt], plum puree, soy sauce [water, soybeans, wheat, salt], garlic, corn starch, vinegar, salt, molasses, spices), salted sake (water, rice, salt), soy sauce (water, soybeans, wheat, salt), tomato paste, toasted sesame oil, sugar, rice vinegar, spices, natural smoke flavored garlic oil (canola oil, natural flavors, natural smoke flavor, garlic extract), garlic powder, onion powder, beet juice powder, shiitake mushroom extract powder.

Contains soy, wheat, and sesame.