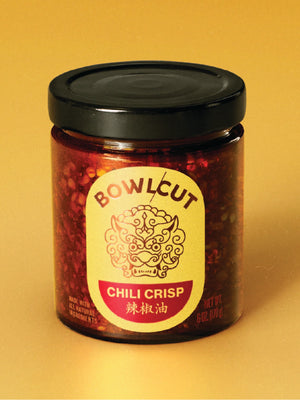 Chili Crisp by Bowlcut
A little Chili Crisp goes a long way, but that doesn't mean you should hold back. Those who like their oil with a little kick, this one's for you. Rich umami flavors are brightened by a touch of sweetness, making our Chili Crisp the ideal pairing to your favorite foods.
Pair with eggs, dumplings, veggies, meat, pasta/noodles
No cooking required
Sunflower Oil, Japones and De Arbol Chile Flakes, Korean Chile Flakes, Garlic, Onion, Tamari Sauce, Sesame Seed, Coconut Amino, Yeast Extract, Sesame Flour, Sugar, Spices, Seaweed Powder.

Produced in a facility that also packages products containing tree nuts, peanuts, shellfish, fish, egg, and milk/dairy.