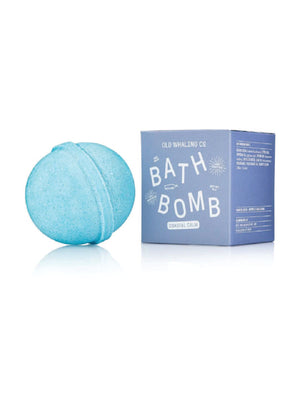 Coastal Calm Bath Bomb by Old Whaling Company
This light and clean fragrance embodies the feeling of a gentle ocean breeze sweeping through wild coastal grass. Fresh, ocean air is blended with the softness of sandalwood and driftwood to create one of our most serene scents. Coastal Calm is one of our most popular fragrances, perfect for those seeking a tranquil or clean, linen scent.
Top: Ocean Breeze, Coastal Grass, Lily
Base: Driftwood, Amber, Sandalwood
Handmade with baking soda, citric acid, epsom salts, olive, and soybean oil, Old Whaling Co. 8oz bath bombs will leave your skin feeling moisturized and lightly scented. Our bath bomb's soothing fizz and sea-inspired fragrance are perfect for a relaxing soak, rejuvenating the senses and cleansing the skin.
At a 2.75" round, our bath bombs are perfect for a single bath. Use caution when entering or exiting the tub, as the oils that make our bath bombs moisturizing can also make for a slippery tub.