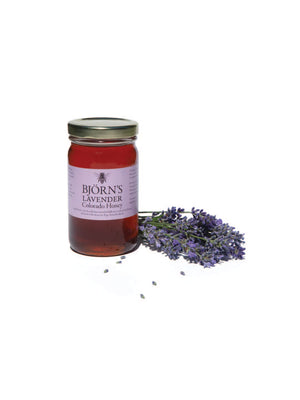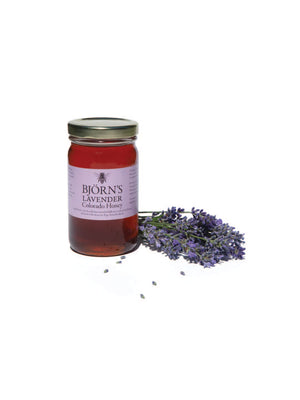 Lavender Honey by Björns Colorado Honey
Our special edition Lavender Honey is infused with Folgate lavender blossoms grown by the amazing Sage Creations Organic Farm in Palisade, CO. Their Folgate variety is a culinary English lavender developed in Norfolk, England, prized for its vibrant violet-blue buds and potent aroma. Some lavender is for use in perfumes but a few special varieties are grown for use in food, Folgate is one of those varieties. 
We blend our Colorado Wildflower and Clover Blossom honeys with this Western-Slope lavender, creating a rich and aromatic honey that's perfect for baking or as a sweetener in lemonade and craft cocktails. Try it on freshly baked bread with cultured butter for an amazing breakfast, or blend it with olive oil and sherry vinegar for an herbal salad dressing on garden veggies. It's also a great glaze for fresh summer fruit, like peaches and apricots. 
Our Lavender Honey will only be around for a few weeks this summer, so order yours before it's gone! 
Net Wt. 10.5 oz.