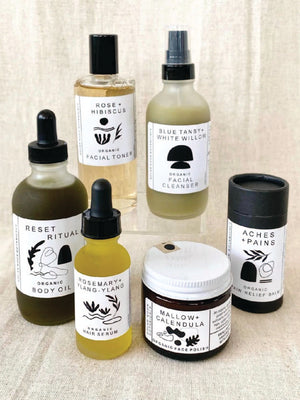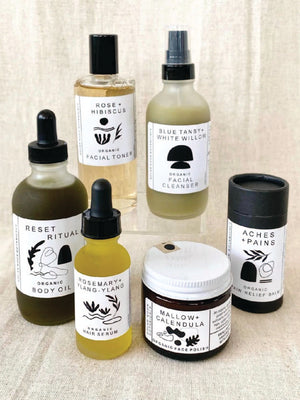 Organic Face Polish Mallow + Calendula by Solar Noon Botanicals
An organic, gentle face polish with natural exfoliators including rose hips seeds, jojoba meal and marshmallow root. These plants help scrub away dead skin and clear the pores of build-up without damaging the skins moisture barrier or causing irritation. With added benefits of cleansing bentonite clay, healing calendula and soothing aloe, your skin will be feeling as soft as a peach.
Suggested use: Add a sufficient amount to hands, and massage into wet face with circular motions to create a light lather.
Ingredients: Calendula hydrosol*, castille soap (Water, organic coconut oil, organic sunflower oil, potassium hydroxide, organic castor oil, citric acid)*, marshmallow root*, bentonite clay, jojoba meal*, rose hip seed*, aloe*, witch hazel*, lavender oil*, grapefruit oil*, petitgrain sur fleurs*, rosemary antioxidant*, peppermint oil*, leucidal* (*organic)
Made in the United States of America.