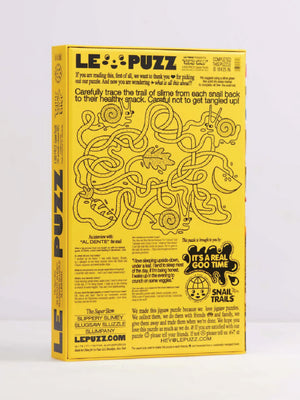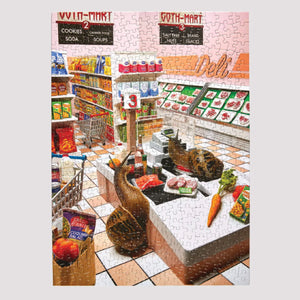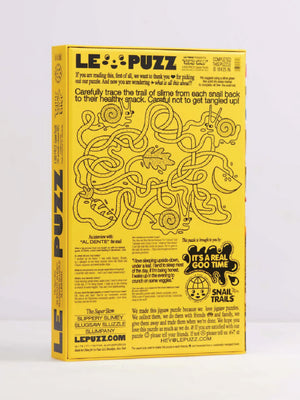 Slime Shop Puzzle by Le Puzz
Slime Shop is a collaboration with Le Puzz and miniature world makers Aleia Murawski and Sam Copeland. These two geniuses created a tiny grocery store by hand for snails and Le Puzz turned it into a 500 piece puzzle! Trés chic!
Slide on down to the Slime Shop at Goth Mart for a real goo time. Slowly browse our aisles to find a wide assortment of plant based meats, fruit, beans and of course salt-free snacks. Take your time, there's no rush, we're open 24/7 365-days a year so slither on in at your own pace. All our products are made locally and packaged carefully by hand by our staff, we will even help attach your groceries to your shell if you need assistance.
The snails are real and all of the other details in this image were made meticulously by hand. For more info about the snails you see here please refer an an interview with Al Dente (the snail) on the back of our box.
500 pieces
Random cut — every piece different than the next!
Completed, Slime Shop is 25 x 18 inches. The Slime Shop box is 14.25 x 9 x 2 inches.
500 pieces, a reusable resealable bag, bonus double-sided fold-out poster.
Our puzzle die lines are exclusive to Le Puzz and are random cut meaning every piece is different than the next! Detail above of the 500 pc. die line to give you a sense of the kinds of pieces you might encounter. Our 500 piece puzzles are extra-thick — quite possibly the thickest puzzle pieces on the market to date.
The photo on this puzzle is titled "Al Dente's Grocery Trip" by Aleia Murawski and Sam Copeland. Read more about Aleia, Sam and their snails at aleia.net