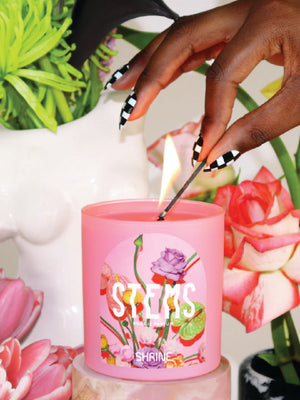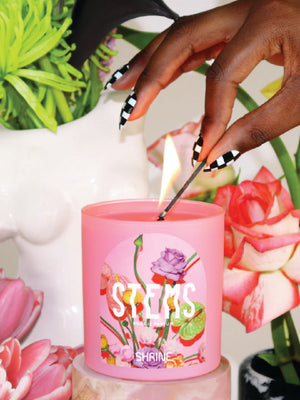 Stems Candle by Shrine
TULIPS, ROSES, DAISIES, BLOOMING MUMS, CITRUS, FRESH DIRT
An ultra-floral scent for the flower obsessed. Stems is an arrangement of florals working seamlessly together with a hint of citrus and a base of fresh dirt. Talk dirt to me. 
*Order temporarily packaged in paper packing only - but the candles are the same ones you know and love. Follow us on IG for new packaging updates.
8 oz | Coconut apricot wax  | 50hr approx. burn time
Hand poured in Los Angeles
1. TRIM IT : Before each burn trim your wick to 1/4 of an inch before each burn. Trimming your wick extends the life of your candle, prevesnts smoking, provides a clean burn & prevents hazardous flames. 
2. BURN IT : Always burn your candle long enough to get an even melt pool across the top of the candle - this is espeically important for the first burn of the candle to avoid tunneling. This should be approximately 3-4 hours. Do not burn your candle for longer than 4 hours at a time.
3. ENJOY THE BURN :)
4. SNUFF IT : Extinguish the candle safely. Once your flame is extinguished make sure the wick is upright and centered. 
5. BONUS POINTS! : Reuse or recycle your vessel once it is finished burning.